Today we'd like to introduce you to Brandon and Diana Miller.
Meet the Bespoke Unique and Trendy Colombian Wayuu Bags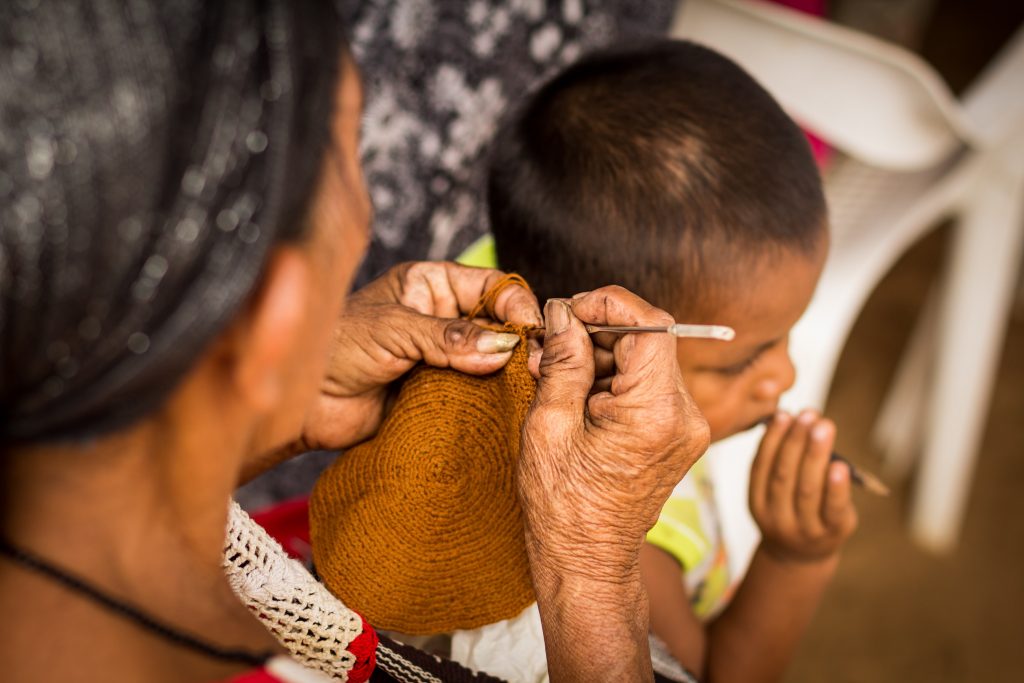 Original Publication June 7/2017
http://voyagedallas.com/interview/meet-brandon-miller-diana-miller-wayuu-mochila-bags-com-wylie-tx/
So, before we jump into specific questions about the business, why don't you give us some details about you and your story.
Diana- We met around ten years ago here in Dallas. After we got married, I took Brandon back to my country of birth, Colombia. He and I loved being there. It then became our goal to look for ways to travel back as often as we could.
Brandon- My wife and I always enjoyed embarking ourselves into various business endeavors. For many years we enjoyed selling items on eBay. On one opportunity, during November. 2015. I went to Colombia to get some dental work done in the capital city, Bogota. Also, I took this trip to buy some Colombian products to bring back and sell online. I had been selling Colombian Hammocks as I enjoyed them very much. I went to my usual vendor that day, and he was all out of the products I wanted. The salesman pressured me into buying some women's shoulder bags he called "Mochilas Wayuu." The now world-famous Colombian Wayuu Bag.

I am just a regular tech-savvy guy. Most days,  I have no idea about women's fashion, but something told me to go ahead and buy some bags. Without hesitating too much,  I headed straight to my in-laws' residence, excited to share the Wayuu Bags on Facebook. After taking a quick couple of photos, I posted them for all to see! Colombian Wayuu Bags for all to see!
I was disappointed; I got zero engagement from my post and thought the products were not as likable as I had imagined. As we fast forward to April 2016, (Tax Season), I finally got around to posting the Colombian Wayuu bags to our actual eBay store. In less than 24 hours we sold all the Wayuu Mochilas I bought. Nevermind the amateur pictures and lack of information on the bags.

The Miracle Colombian Wayuu Bags
Diana- Brandon called me that day while I was at work and told me he needed to go back and purchase 100 of these items. I knew a bit about the Wayuu and their amazing products. The thing I loved the most about our business was, we got to promote indigenous artisans' work. Thus, I was already excited the Wayuu Mochila Bags were doing well. So, we considered what had happened, and it didn't take much convincing for me to be behind his idea 100%.
Brandon- When I returned and posted the items to eBay, I sold over 30 bags in 24 hours. I turned back to Diana and pressured her to get more bags a week later. We both soon realized that International business wasn't as accessible as just getting on a plane and coming back with our luggage full of handmade items. US Customs has strict regulations, and we had to make sure everything was processed the right way. In one year, we have employed over 35 people in the USA and Colombia and have ten full-time employees. US Customs certifies all of our bags for USA distribution.
Many people ask how much money goes to the Wayuu and I have to assure them we follow fair trade standards. Furthermore, I sit there, every day we work, surrounded by an average of 136 years' worth of Wayuu handmade products. An average bag takes 15 days to create, and Wayuu-Mochila-Bags.com has anywhere from 1500 to 2000 Wayuu Bags in stock. Surely, we are 100% invested in the Wayuu culture. We believe these great indigenous artisan people need an opportunity to join the economy, and we work every day toward this goal.
All in all
Diana- We have invested our savings, time, and love into this business, and we have only seen blessings come to everyone involved. I have had the chance to see my country and its people from another perspective. Thus I can only be proud to be able to be part of this myself. Today, we are one of the top Wayuu Suppliers in the World. Though if you ask Brandon, he would say we are THE number 1 distributor of Wayuu art in the world.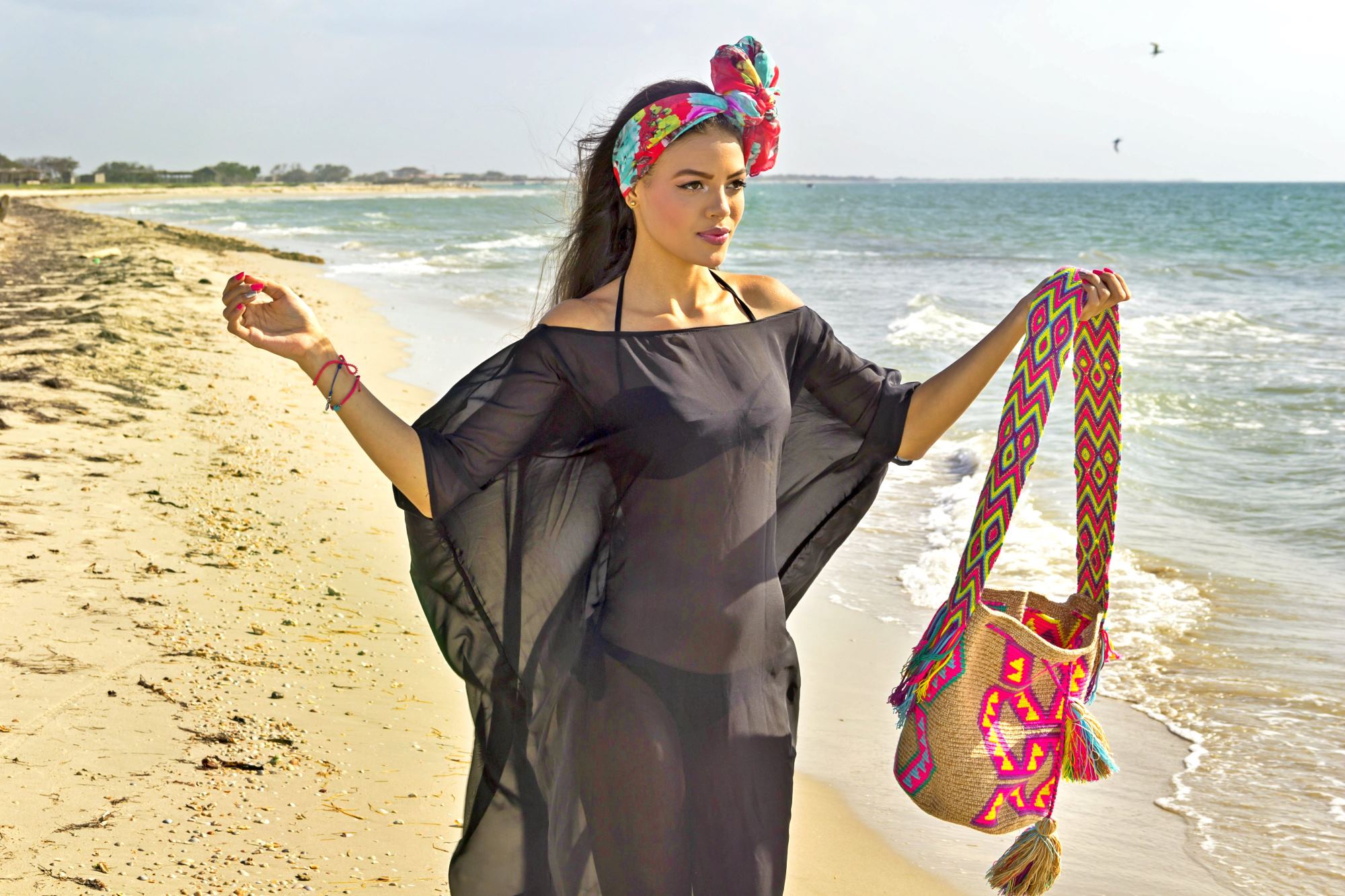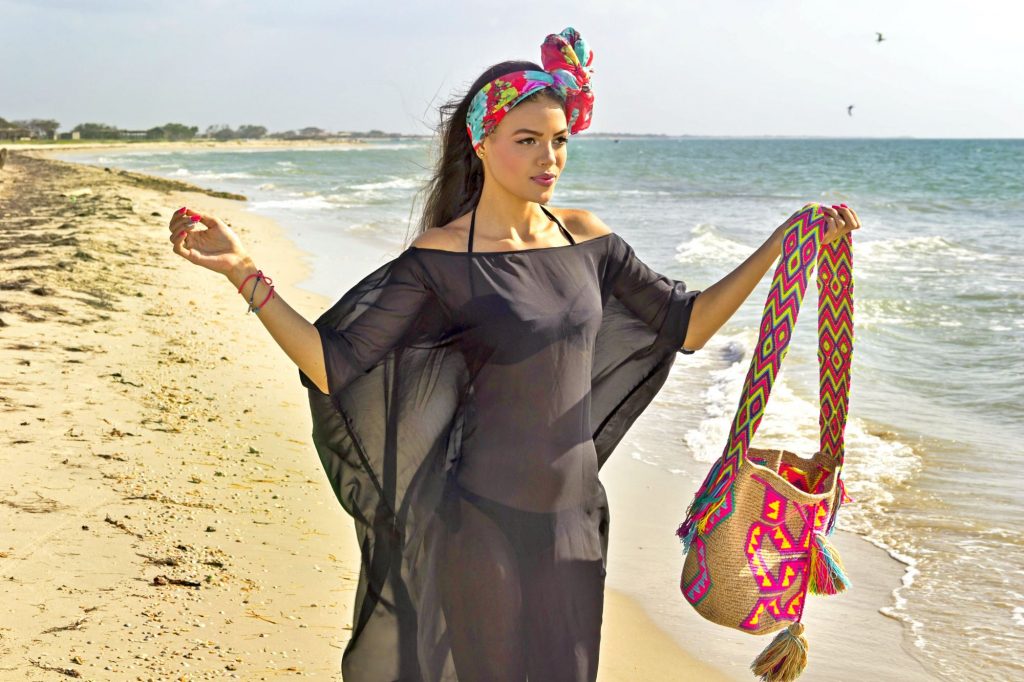 Has it been a smooth road?
Brandon: Being married to Diana for almost ten years now, you would think I would be bilingual. Let me tell you I have learned more Spanish and more about the Colombian culture in the past year than in the previous nine years combined. All of our employees speak Spanish, and very few can speak English. The communication barrier didn't scare me because I knew this would only be just one of many tongues I will learn along my journey. We have clients from all over the world, and they speak many different languages. With the help of Google Translate, I am making it happen.
Some of the other problems I experienced were related to the complexity of business dealings internationally. One has to personally understand the culture at the national and local levels, to effectively perform business duties. Getting a handmade item from the Guajira Desert to a Loft in Manhattan is not as easy as you might think.
One of the biggest problems we are having right now is getting accurate information about Colombian Wayuu bags to the public. Many people say they like the mochila bags because the Wayuu make them out of cotton, a natural fiber. After spending months researching, we found that all Wayuu artisans weave with 100% Acrylic fiber. Items made out of cotton are scarce to find.  All cotton found in Colombia is either from Brazil or the USA. If the If Wayuu artisans made mochilas with cotton, they would fade under the scorching temperatures under the sun in La Guajira. Acrylic holds its vibrant, long-lasting colors. Better yet the Acrylic Wayuu Bags is machine washable and won't fade.
We'd love to hear more about your business.
Wayuu-Mochila-Bags.com has a tremendous variety of Colombian Wayuu products in the World. When you buy a bag from us, you know you are supporting a social business dedicated to helping the Wayuu. Most competitors have less than 200 products. Our shop has over 1500 items in stock ready to ship.
We are launching our Wayuu Exclusive Collections Vendor program on June 1st, 2017. Our team created an application through our store that will enable individual Wayuu families and vendors to sell their products online; directly from La Guajira peninsula. We are super excited about this and the unique items that will hit our shelves. All these pieces will ship from Colombia directly, with the Wayuu-Mochila-Bags.com 100% Customer Satisfaction Guarantee!
We plan on opening "Safe Centers" throughout La Guajira where the Wayuu can come to sell their bags to us.
Anything important to add?
Sometimes, often, buyers of Colombian Wayuu bags mistreat Wayuu artisans through the buying process. People tend to undervalue the hard work of the Wayuu. Thus, it was essential for us to perform all of our business dealings under Fair Trade principles.
We are working with developers to create the "Portal Wayuu," a basic app that will enable the Wayuu to sell their bags directly on Wayuu-Mochila-Bags.com
We had officially started on May 26th, 2017. Our Non-Profit, Taashii Wayuu, will focus its efforts providing aide to obtain water, better education, and bring technology to La Guajira region. These Colombian Wayuu bags will be the best in the industry giving back 100% of the proceeds to these three areas.
Is our city the right place to do what you do?
Brandon: Dallas has a fantastic place in our heart. I was born and raised in Wylie, TX, and think the Dallas Metroplex is an excellent place to start a business. Let me tell you though if you don't believe that you are the best, you will never be. Dallas has some of the most talented people in the whole world. I know that one day Dallas will be number #1 the city for business in the World.
Source VoyageDallas.com
http://voyagedallas.com/interview/meet-brandon-miller-diana-miller-wayuu-mochila-bags-com-wylie-tx/
Stories, Local. "Meet Brandon and Diana Miller of Wayuu-Mochila-Bags.com in Wylie." Voyage Dallas Magazine | Dallas City Guide, Voyage Dallas, 7 June 2017, voyagedallas.com/interview/meet-brandon-miller-diana-miller-wayuu-mochila-bags-com-wylie-tx/.