Welcome to our Frequently Asked Questions section about Wayuu Mochila Bags!
We provide the most valuable information about Wayuu Bags. Following, we have created a list of the most relevant inquiries that you might encounter.  In essence, We make it our goal to have the best customer experience, and we realized that part of that is keeping you informed. We intend always to make all the information about Wayuu Bags available to you about our company, our process, and the Wayuu. Wayuu Mochila bags are an up-and-coming trend that will please many with their stylish colors combinations and intricate patterns.
On the other hand,  if you don't like a bunch of colors, that's okay too. We have solid color and earth-toned Wayuu Mochila bags as well. All in all, Wayuu Mochila bags will continue to turn heads with their unique designs as they provide the means for these artisans to support their communities.
It is always important to know what you are buying, and how it can help change the world for other people. Thus, all information about Wayuu Bags you need to know can be answered here.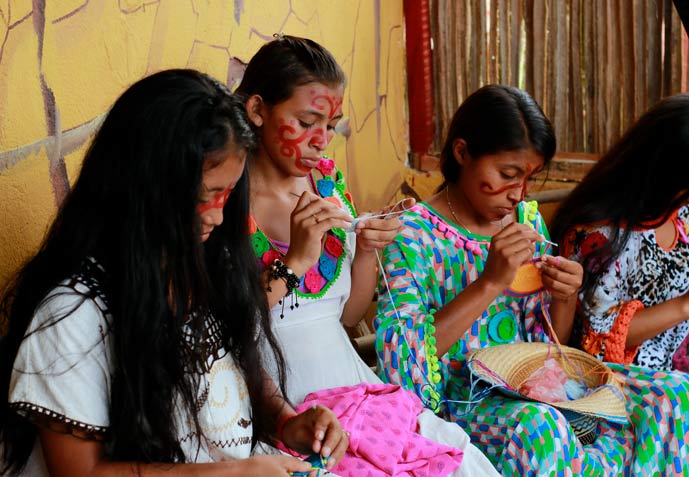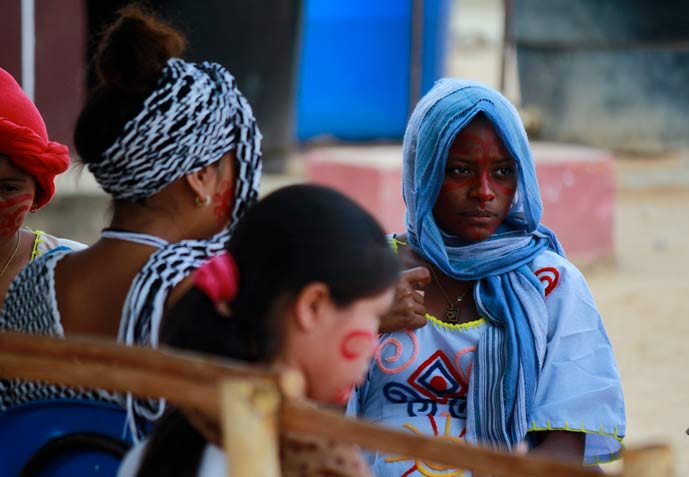 So,  If there is anything else we can assist you with, we are always a short phone call or email away. It may be cliché to say, but there are no trivial questions you could ask us. In spite of the new availability of information through the internet, not many things are known regarding such a unique culture and way of life.
En conjunto, ¡es importante que todos los miembros de nuestro equipo hayan experimentado la cultura de primera mano y puedan ayudarlo con cualquier necesidad que pueda surgir! Por lo tanto, como equipo, nos complace responder cualquier pregunta que pueda tener. Mire nuestras preguntas frecuentes y encontrará algo interesante para aprender; información sobre Bolsas Wayuu, sobre nuestra empresa, o sobre la Maravillosa cultura Wayuu.
What are Wayuu Bags or Wayuu Mochila Bags?
Wayuu is the name of the Tribe; Mochila means backpack or purse in Spanish. The Latino community calls these purses "Wayuu Mochilas."
Who are the Wayuu People of the Wayuu Tribe?
The Wayuu are an old native tribe that lives in the northern peninsula of Colombia and Venezuela.
How did the Wayuu Start Making Wayuu Bags?
The Wayuu come from a millenary weaving tradition. Their ancestors, the Arawaks, weave beautiful crossbody bags out of wool to carry their daily working tools and trinkets.
Are there different types of Wayuu Bags?
Most "Wayuu Gurus" would divide Wayuu bags into two broad categories; Single Thread Wayuu Bags and Double Thread Wayuu Bags.
Why are Wayuu Bags considered fashionable or cool?
Above all, each Wayuu bag is a unique work of art, created as the result of hundreds of years of weaving tradition.
What are Wayuu Bags made with?
The ancient Wayuu ancestors used to weave these Mochila Bags with natural fibers like wool. Nowadays, Wayuu people use synthetic fibers made with 100% Acrylic.
Are there types of patterns?
Each mochila is different because of its colors, patterns, and thread tension. However, there are certain patterns that have recognized names within the community.
Where do we get our Wayuu Bags?
The Wayuu people occupy a large territory throughout the northern Colombian peninsula; connecting merchant cities like Maicao and Riohacha that provide a central market for the Wayuu to reach customers.
The mochilas are handcrafted in the villages of the Wayuu. They live in villages called Rancherías in the desert and surrounding beaches across the peninsula.
What can you expect when you buy a Wayuu Bag?
Wayuu bags are handmade items; they are not perfect, but they are of superior quality and durability.
All our bags are transported to the US to our Wayuu Mochila Bags Distribution Center located in the Dallas Metroplex area.