For the Wayuu, women hold a very important place in society. Women are at the center of many aspects in the Wayuu communities. Most of them are entrepreneurs and artisans. A majority of Wayuu economies depend upon the woman's work, many times making the beautiful Wayuu Mochila Bags.
The Wayuu give women the very important task of preserving their millenary culture. Their teachings and traditions are passed on through the women of the clans. Small children learn and acquire many skills through the teachings of their mothers.
The Wayuu are one of the few indigenous communities able to survive in South America. Their resilience is admirable. Women in the Wayuu world have worked very hard to maintain their cultural background while trying to maintain friendly relationships with people of the surrounding areas. The commercialization of Wayuu Mochila Bags has brought the community prosperity and has allowed them to join the competitive world economy thanks to the internet.
The Wayuu artisan women often come up with different variations of their Wayuu Mochila Bags. They are continuously inspired by each other's creativity, and they push each other to construct better products and develop a wide variety of color patterns and designs.
One of our favorite Wayuu Mochila color combinations for the fall is the Traditional Pink combination! These colors work great with all your boho-chic, retro outfits and distressed jeans.
In honor of all the women around the world and especially those who have had to endure the devastation of  breast cancer, we have put some outfits together wearing the very timeless and feminine color PINK.
Keep it simple and classy for an afternoon in the town wearing your Wavy Pink Wayuu Mochila Bag. Pick an airy pastel color shirt, pair it with some distressed jeans and some cute pink peep booties.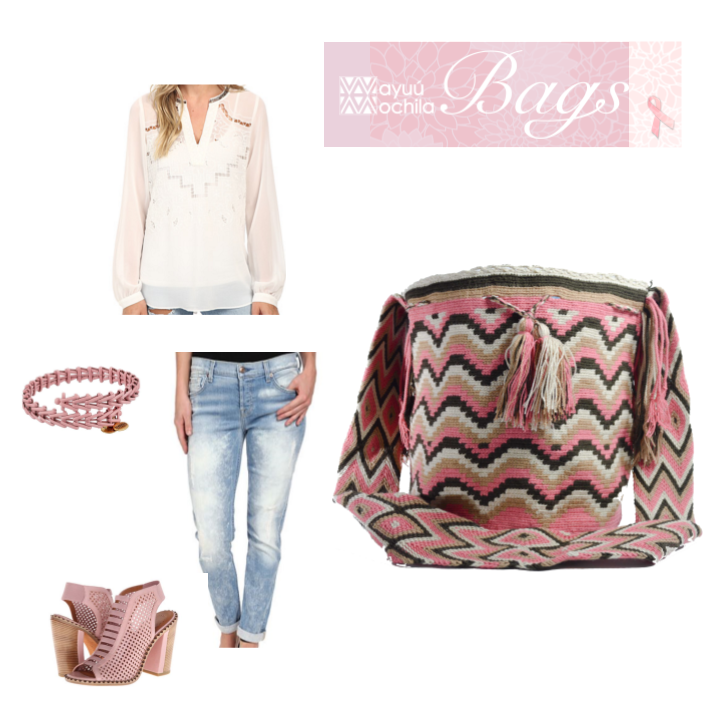 Look darling wearing a solid color brown Wayuu Mochila Bag paired with a bright color lacy dress. Wear some dangling earrings and cowboy boots to finish the look.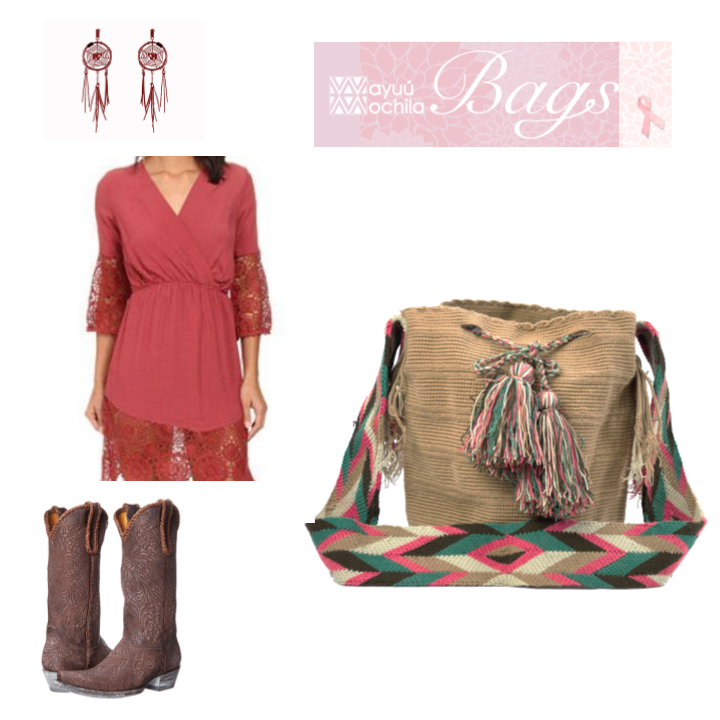 Pick a pink Mini Wayuu Mochila Bag for a night on the town. It is perfect to carry your essential items like your wallet, phone, keys, and lipstick! Pair it with a short dress and booties for a stunning but effortless look.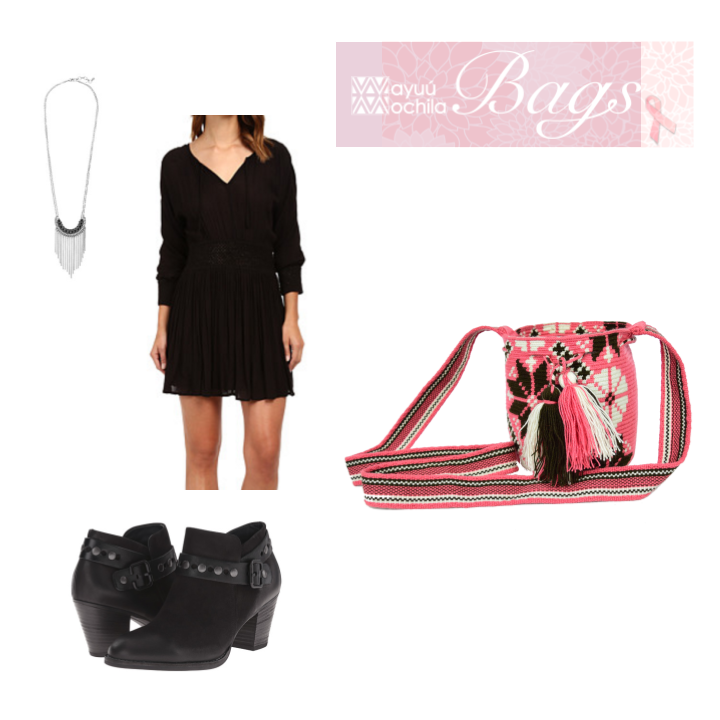 Thank you for reading and check out all our pink items!
We support The National Breast Cancer Foundation. Make a donation on any product page.
Check out our Pink items === > Neon Pink and Traditional Pink large Wayuu Mochila Bags.
Outfit Inspirations ☼ What can I wear with my Wayuu Mochila Bags?